july 8, 2021
6 pM – 8 PM ET
Center for Leadership Development
2425 Dr. Martin Luther King Jr. St.
Indianapolis, IN 46208
maurice broaddus will speak at the center for leadership development at 6 pm ET on thurs., July 8.
Meet the author! Thanks to funding provided by the Indiana Authors Awards, Maurice Broaddus is coming to CLD for a public book signing!

About this event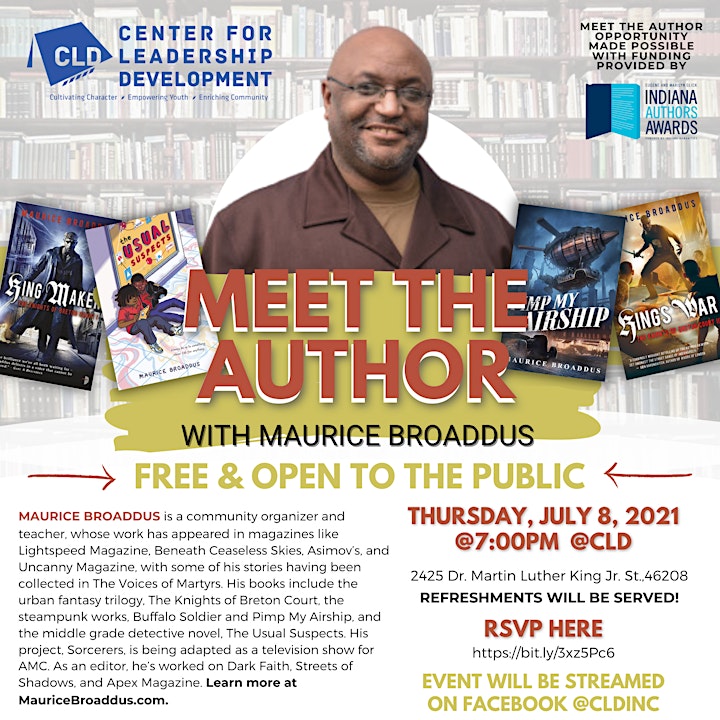 MAURICE BROADDUS is a community organizer and teacher, whose work has appeared in magazines like Lightspeed Magazine, Beneath Ceaseless Skies, Asimov's, and Uncanny Magazine, with some of his stories having been collected in The Voices of Martyrs. His books include the urban fantasy trilogy, The Knights of Breton Court, the steampunk works, Buffalo Soldier and Pimp My Airship, and the middle grade detective novel, The Usual Suspects. His project, Sorcerers, is being adapted as a television show for AMC. As an editor, he's worked on Dark Faith, Streets of Shadows, and Apex Magazine. Learn more at MauriceBroaddus.com.